EasyZon premium themes untuk amazon store
Salam sejahtera kepada semua. Sebagai seorang yang berjinak-jinak buat duit di amazon, saya sentiasa mencari themes amazon store yang menarik bagi saya. Konsep amazon store adalah pilihan saya walaupun ada tips-tips daripada otai-otai amazon bahawa amazon store kurang berkesan menjana pendapatan dengan amazon.Oleh kerana blog saya bekerja secara automatik dengan bantuan plugin wprobot maka saya lebih suka konsep amazon store ni dan bukannya buat review produk di amazon.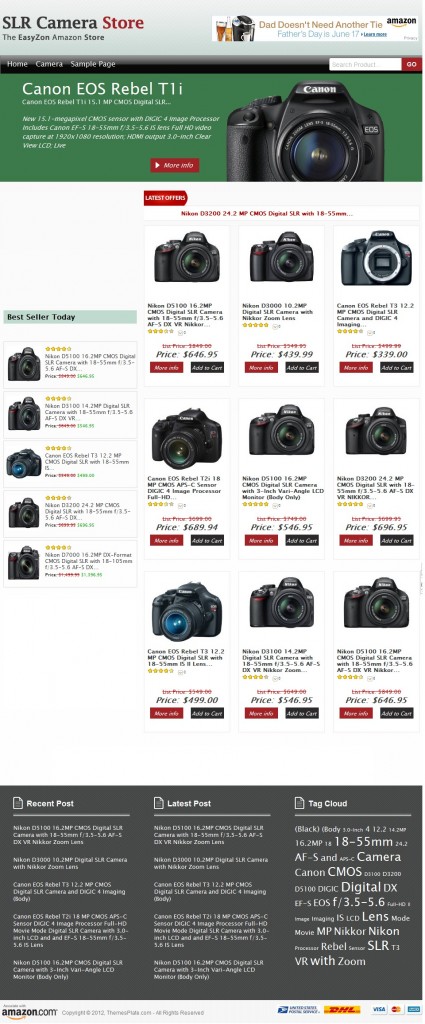 Sebagai pengguna atau pembeli theme amazon store Heri Rosyadi  iaitu seorang usahawan dari negara jiran, setiap kali beliau melancarkan produk baru, beliau akan hantar email promosi. Semalam team Heri Rosyadi melancarkan themes amazon store yang dikenali EazyZon E-Store. Saya belum beli themes ini sabab saya masih sayangkan themes yang pernah saya beli dengan team Heri pada awal tahun yang dikenali WpZoner dan MegaZon Store. Jika anda berminat dengan themes ni boleh mendapatkannya melalui link yang saya letak di bawah sekali.  Antara ciri-ciri themes ini adalah seperti berikut : Saya copy dari halaman jualan –
There are many cool features in this theme:
Professional Design That Will Increase Conversion
Support 3 Amazon countries
Can be integrated with Adsense or another advertisement option
Support WPRobot, WpZonBuilder, and manual posting
News Ticker
Background pattern options ready with 7 styles to choose from
Easy To Use Theme
and many more..
Nak lihat demo : http://demo.themesplate.com/ezswpzon
Beli  : http://www.warriorforum.com/warrior-special-offers-forum/616266-hot-offer-amazing-easyzon-estore-wp-theme-will-skyrockets-your-amazon-profit-mobile-ready.html